Five Michigan officials charged with manslaughter for their role in the Flint water crisis. But… what about ME?
It was announced Wednesday that the top man in the Michigan health department and four others have been charged with involuntary manslaughter for their role in the years-long Flint water debacle.
state AG Bill Schuette said at a press conference Wednesday that Nick Lyon, director of Michigan Health and Human Services, "failed in his responsibilities to protect the health and safety of the citizens of Flint,"
A press statement from Schuette alleges that Lyon waited a year before alerting the public about the outbreak of Legionnaires' Disease as a result of the crisis. This, it was stated, led to the death of 85-year-old Robert Skidmore. The statement also says that he also thwarted an independent researcher from investigating the cause of the outbreak, .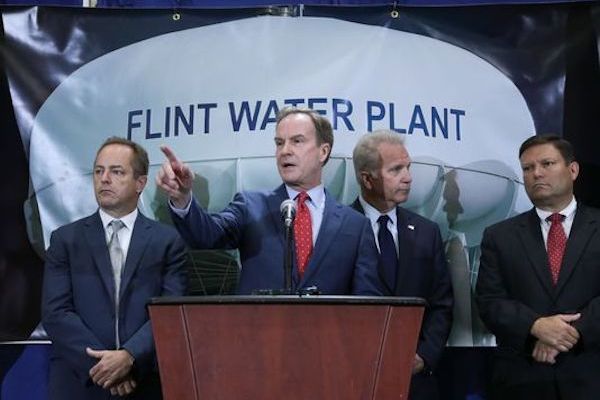 Lyon was also charged with misconduct in office.
Others now charged with involuntary manslaughter charges include former Flint Emergency Manager Darnell Earley, former City of Flint Water Department Manager Howard Croft, Michigan Department of Environmental Quality's Drinking Water Chief Liane Shekter-Smith, and Water Supervisor Stephen Busch.
Detroit News reports, "these four had been charged with less-serious crimes during the past year."
NPR also writes: "More than a dozen former state and city officials have been criminally charged in connection with the Flint water crisis,". So far, "Lyon and Wells are the highest-ranking state officials to be charged."
Lonnie Scott, executive director of advocacy group Progress Michigan, says the new charges stemming from Schuette's investigation "show that the failure in Flint lies squarely at the feet of Governor Rick Snyder."
---
Ian: Talking about Flint is a good way to give a face to this very serious issue and make it personal. This affects us all! 

I believe it's extremely important that everyone understand that Flint is only one city in a national problem, (there are currently close to 80,000 violations of drinking water standards in every state in the U.S. and nearly one in four Americans receive their drinking water from systems which fail to meet federal health standards) almost 2,000 water systems in all 50 states have excessive levels of lead contamination. This isn't Flint's problem. It isn't one state's problem. It's a American problem.
And hey, that's so easy to blame the 'authorities' and to have someone brought out to 'justice'. When I look at these issues I always try to look at what part I had in it. Superficially it would appear that i have nothing to do with it. I live in Australia. I am not an American.
But… why does it take all of America to prove to me that NOT taking action at a personal and family level is OK. Let;s put it so clearly it may hurt: by choosing to ignore the quality of water (or food, or air, or environment) I have not NOT made a decision. I HAVE made a decision NOT to be involved in a future where 2 out of 3 people die of cancer. Nothing to do with me, I hear so often. But.. if I have a decision to make and I ignore it.. I'm still making a decision against health, love, vitality and longevity, aren't I?
It has been a strange experience for me to have people come to our base here in Byron Bay and to congratulate me on helping them and their loved ones. I guess it's still a little hard to connect what i am doing every day with actually changing people's lives. I seem to reduce the importance of what I do and say – perhaps feeling like that would be some form of excess pride.. but hey, here's a family standing in front of me TELLING me I helped them.
My BIG endeavour right now is to perfect a way that can help people to feel the way I feel – to have the experience of really helping people, and so I DO look at doing nothing about my health and the health of those around me. To help others in any way you can – and that includes helping others to have good water – is a self-ish action. Self-ish? Yes! Because doing it makes ME feel good! And YES! I want to share that!
If you want to keep in touch with us and our 'BIG IDEA' coming soon, I suggest you subscribe to my HealtheMail.
Facebook Comments